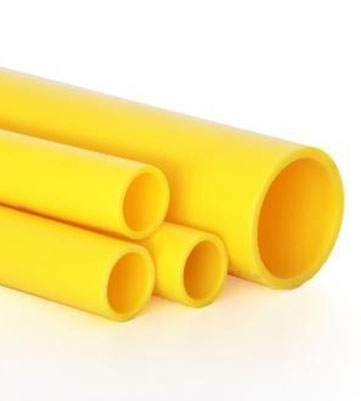 Polyethylene Pipes
BBJ Pipe offers Polyethylene Pipe for Oil, Gas and Water applications. Our polyethylene pipe is produced from internationally reputed high quality resin, extruded with precision and strict quality control measures taken to ensure high quality of the product in compliance to international standard.
BBJ Polyethylene pipes are designed for many pressure and non-pressure applications such as gas, water supply and distribution, compressed air, chemicals, hazardous wastes, utility, slurries, marine, mining, and agriculture. These pipes have excellent abrasion resistance, superb impact resistance, and extraordinary toughness. BBJ polyethylene pipes are replacing conventional piping systems for water supply and distribution. Polyethylene pipe are extensively used for new as well as replacement piping works throughout the world.
BBJ HDPE and MDPE pipes for gas is extensively used for the distribution and supply of natural and other gases, up to and including house connections. Gas lines require piping systems that deliver high quality, high performance and are maintenance free. Our specially produced gas pipes have been successfully installed throughout Pakistan for the supply and distribution of gas. Pipes for gas application are manufactured according to latest International Standard of ISO 4437 or ASTM D 2513.

BBJ HDPE pipes for water  is black in color with a smooth internal surface. The inherent characteristics of polyethylene such as corrosion resistance, availability in long lengths, ease of installation and leak free joints make our pipe systems a preferred choice. Pipes for potable water application are manufactured according to latest International Standard ISO 4427 or DIN 8074/8075.

BBJ Cable Duct pipes  is manufactured from polyethylene, which successfully meet technical demands of our customers. The communication sector demands uninterrupted and reliable service for continuous transmission of data. The quality of cable duct systems, in which these vital links are encased, must be dependable and ultimate in performance to preserve and protect these lines for decades. BBJ cable ducts are used for guiding and protecting cables used in telecommunications, data transmission, energy and electric power transmission lines. Pipes for cable duct application are manufactured according to latest International Standard ISO 1183, ASTM F-2160 and ASTM D638.
Dimensions:BBJ Polyethylene Pipes are manufactured in nominal outside diameter of size 16mm to 500mm.
Standard Lengths:Coils up to 50m and 100m lengths are available for sizes up to 90 mm. PE pipes are available in straight lengths of 6m and 12m for sizes up to 450mm.


Advantages of using BBJ Polyethylene Pipes
Flexible Pipes so coiling is easy.
Leak Free.
Non-corrosive nature.
Have various jointing techniques.
Have low coefficient of friction i.e. good flow properties.
Light weight.
Low installation cost
Low maintenance and operational cost.
Durable & impact resistant.
Long life (More than 50 years).
Cost effective pipeline network.
Suitable for narrow trenching.
Can withstand substantial deflection during installation.
Retains long-term strength at elevated temperatures.
Resistance to environmental stress cracking ensuring long-term resistance to internal pressure, external loads and

harsh environments.

Does not rust, rot or corrode or support biological growth.
Suitable for extreme weather conditions.
industries covered
Auto Industry

Architects & Consultant

Chemical Industry

Sugar & Fertilizer Industry

Telecom Industry

Furniture Industry

Oil and Gas Companies

Water Supply & Sanitation

Non Governmental Organizations (NGO)